Oil Review Africa was sad to learn of the death of the outgoing OPEC secretary general, His Excellency, Mohammad Sanusi Barkindo, in his home country of Nigeria, at the age of 63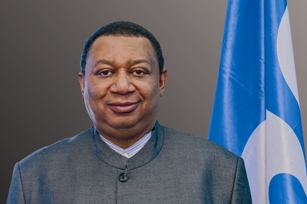 HE Mohammad Sanusi Barkindo. (Image source: OPEC)
"He was the much-loved leader of the OPEC Secretariat and his passing is a profound loss to the entire OPEC Family, the oil industry and the international community," said OPEC in a statement, expressing its gratitude for the over 40 years of selfless service that HE Barkindo gave to OPEC. "His dedication and leadership will inspire OPEC for many years and decades to come."
OPEC noted the infectious passion Barkindo had for the petroleum industry; his unwavering belief in oil's poverty eradicating potential; a steadfast commitment to sustainable development; the importance of dialogue and multilateralism; and, most fundamentally of all, treating everyone with respect and kindness.
HE Barkindo served as acting OPEC secretary general in 2006, representing Nigeria on OPEC's board of governors from 2009 to 2010 and appointed as secretary general in 2016. In this role, he was instrumental in setting up the OPEC+ alliance in 2016, where OPEC members joined forces with Russia and other non-members to cooperate on oil supply.
HE Barkindo was a visionary leader and an eloquent communicator, said OPEC. "He served the organisation with great distinction and helped it successfully navigate through two major industry downturns (2015-2016 and 2020-2021), and was a consummate diplomat in further advancing dialogue and cooperation with a variety of industry stakeholders.To the last, he was always true to his respectful nature, always there to listen, offer guidance and show leadership; a genuine OPEC icon."
The Africa Energy Chamber commented that with a career spanning four decades, HE Barkindo dedicated his life and career to growing the Nigerian, African and global oil and gas sectors. Prior to his roles in OPEC, HE Barkindo was a leading figure in the Nigerian energy space, having served as advisor to former Minister of Petroleum Resources and OPEC secretary general, H.E. Dr. Rilwanu Lukman KBE, deputy managing director of Nigerian Liquefied Natural Gas and group managing director and CEO of the NNPC. H.E. Barkindo had been a leader of Nigeria's technical delegation to the UN climate change negotiations since 1991, served as chair of the Group of 77 and China at the United Nations Framework Convention on Climate Change, and was vice president of COP13, COP14 and COP15.
HE Barkindo was due to step down as OPEC secretary general at the end of July, and had returned to Abuja, where he gave an address at the Nigeria Oil & Gas show. Haitham al-Ghais of Kuwait is scheduled to take over as OPEC secretary general on 1 August.