Magnetrol-AMETEK has released the Genesis Multiphase Detector for multiphase detection, measurement and control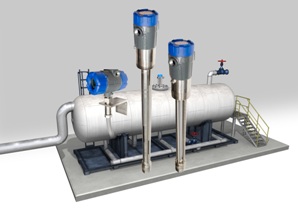 The Genesis Multiphase Detector. (Image source: Magnetrol)
Multiphase level measurements exist throughout process industries. They are especially significant in the oil & gas and petrochemical sectors due to the value derived from effectively separating water and hydrocarbons. While level instrumentation has come a long way in measuring liquids of all varieties, multiphase level measurement remains a challenge and a considerable opportunity.
The new Genesis™ Multiphase Detector from Magnetrol is designed to measure multiple phases in applications with thick and dynamic emulsion layers:
• Vapour phase
• Total level (e.g., hydrocarbon liquid)
• Top of emulsion layer
• Bottom of emulsion layer (e.g., water level)
• Sediment
The Genesis addresses the challenges of measuring dynamic conditions in difficult processes, such as desalters and separators. It is a powerful, cost-effective solution capable of measuring total level, emulsion layers, and sediment from a single opening in the vessel. It offers a number of features and benefits including:
• 24VDC input with four (4) 4-20mA outputs (including HART) for convenient control of total level, top of emulsion, water level, and sediment
• Concurrent top-down and bottom-up signal generation
• Proprietary and innovative software algorithms for interpreting signals
• Changing media characteristics have no effect on level measurement
• Four-button keypad and graphic LCD display allow for viewing of configuration parameters and performance curves
• Proactive diagnostics for scheduling maintenance and mitigating unplanned shutdowns.
For more information on the Genesis Multiphase Detector, visit genesis.magnetrol.com