Energy services provider, has acquired well construction cementing specialists DeltaTek Global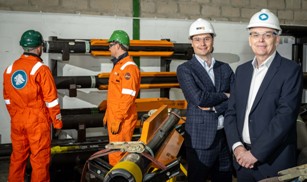 Traistam Horn, DeltaTek CEO and founder, and Alistair Geddes, Expro chief operating officer. (Image source: Expro)
The acquisition allows Expro to broaden its offering, capabilities, and technology portfolio within the well construction cementing sector, while accelerating DeltaTek's international deployment ambitions through Expro's global footprint.
Expro's chief technology officer, Steve Russell, said, "This is an exciting transaction for Expro that we believe will deliver real value to our combined customer base. The DeltaTek range of low-risk open water cementing solutions increases clients' operational efficiency, delivers rig time and cost savings, and improves the quality of cementing operations for our clients.
"Today's announcement expands our well construction cementing capabilities through DeltaTek's open water cementing systems and techniques. These strengths, technologies and ambitions complement Expro and we are delighted to welcome the DeltaTek team to the Expro family."
Aberdeen based DeltaTek has an experienced leadership team focused on developing and deploying cementing technologies to the offshore market, with operations across the UK, Norway, the Gulf of Mexico, West Africa and Asia Pacific.
Commenting on the acquisition, Tristam Horn, CEO and founder, said, "The team and I are delighted to announce this milestone for DeltaTek. To join Expro, a leader in the industry, is a monumental moment for the company, our existing clients, and the wider industry as we continue to innovate and grow the Cure and ArticuLock portfolios to directly address well construction challenges. With Expro's global footprint and strong customer base, we expect to deliver our technology to all operators across the entire well construction market through existing Expro channels, simplifying the global adoption of our value-adding services for our customers."