Deepwater remote operations specialists DeepTech Oil Services has expanded its premises with a new testing pool and crane to its 3600 sq m custom built facility in Cairo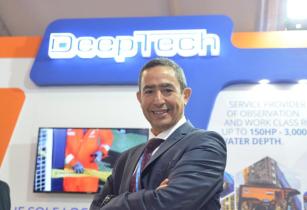 Ahmed Soliman, managing director of DeepTech Oil Services. (Image source: DeepTech Oil Services)
The company stated that this will enable engineers to test prototype remotely operated vehicle (ROV) technology.
The company added six new ROVs to its fleet at the end of last year bringing its total to 13 work class and inspection class vehicles. It has also been extending its worldwide reach by building on its presence in Malaysia, with an increase of projects and equipment in the region.
Ahmed Soliman, managing director of DeepTech Oil Services, said, "Innovation is in the DNA of our group of companies. In fact, 30 per cent of our combined team is dedicated solely to research and development (R&D).
"The innovation team includes more than 75 engineers from various disciplines including underwater robotics, electronics, control, hydrodynamics, software and mechanical design.
"Our ROV services can also be enhanced with our sister company MCS's ROV software including Pipeline and Platform Commander Software systems, MCS Video Broadcasting, and our Photo Realistic 3D Cloud (PRC) which provides underwater imagery as accurate as the human eye but without the human risk. These give us a further competitive advantage to enhance inspection and maintenance around the world.
"We have a brilliant team that can be up-manned in 48hours with 24/7 technical support. It is this flexibility which our clients appreciate, particularly in an ever changing market environment.
"Our facility includes a workshop and yard, warehouse, office and training area and this testing pool further enhances our base. We are strategically positioned in Cairo for fast access to airports and ports and response to the Mediterranean fields.
"Now we can continue to try and test our new technology in-house to maintain our position at the forefront of deepwater projects."