BB Energy Group has invested in Gasmeth Energy Global, a company focused on the responsible extraction, processing, and distribution of methane gas from Rwanda's Lake Kivu, one of the African Great Lakes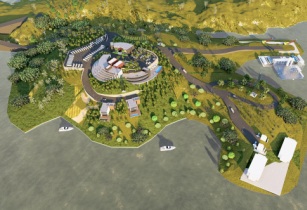 The project will provide an abundant source of domestically produced natural gas to transform Rwanda's economy. (Image source: BB Energy)
This naturally occurring gas will be separated from the lake waters and processed into compressed natural gas (CNG), a non-fossil biogas, to replace conventional fuels.
The CNG will substitute gasoline, diesel, and coal across the transport, industrial, and power generation sectors in Rwanda. It will also replace wood used for cooking and heating. The project will provide an abundant source of domestically produced natural gas to transform Rwanda's economy, breaking the dependence on fuel imports. Furthermore, it will represent a significant step towards a green, energy-secure, and affordable future for the Rwandan people.
Gasmeth Energy has been awarded a 25-year concession by the Government of Rwanda to extract up to 40 MMscf per day of methane gas from the deep, methane-rich waters of Lake Kivu.
Covering approximately 2,700 square kilometres, the lake has naturally elevated methane concentrations in its permanently stratified deep water.
By investing in Gasmeth Energy, BB Energy will contribute to the improvement of health and socio-economic conditions of the Rwandan people while reducing GHG emissions by approximately 7.05 million tonnes of CO2e over the next 25 years. SP Rwanda, part of BB Energy Group's downstream business, will provide its expertise and retail network to distribute the CNG to the market.
Mohamed Bassatne, CEO of BB Energy Group, said, "Our investment forms part of BB Energy's strategy to provide sustainable and affordable solutions to the energy transition and the fight against climate change. This project will contribute to the UN SDG 7 on clean energy, SDG 13 on climate action, and SDG 8 on decent work and economic growth. The project will reduce the GHG emissions in the country, tap into Rwanda's gas resources and as a result reduce the country's energy import bill. We will support Gasmeth Energy with SP Rwanda's advanced resources to distribute the CNG to the local market."
Stephen Tierney, Group CEO of Gasmeth, commented, "We are pleased to work closely with BB Energy in bringing sustainable, carbon-efficient fuel to the local market. Our combined efforts will allow us to drive the methane extraction project further, capitalise on our shared industry expertise, and support Rwanda's economy by providing jobs to the local population. The transformational project will bring impactful economic, environmental, and social benefits to the people of Rwanda."
Egide Gatera, chairman of Gasmeth, added, "I am thrilled to have BB Energy join Gasmeth's investor pool. This again validates the attractiveness of Rwanda as an investment destination as well as efforts made by all in the country towards sustainable development and clean energy."
This investment in Gasmeth follows the October 2022 launch of BB Energy's Improved Cookstove (ICS) initiative in Rwanda. In collaboration with the Ministry of Environment, BB Energy is providing 200,000 efficient cookstoves to households across the country free of charge. In replacing the traditional three-stone-fire cooking method, the new stoves significantly reduce deforestation and harmful household emissions. The initiative is part of a wider agreement signed between BB Energy and the Ministry of Environment to support Rwanda in its fight against climate change.