Aquarius Marine Coatings (AMC) has announced the launch of its anti-foul coating, Coppercoat-Commercial, in the offshore oil and gas sector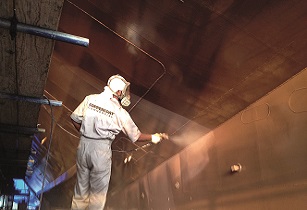 The solution protects offshore assets and infrastructure against performance-degrading marine growth. (Image source: Aspectus Group)
The coating, which contains exceptionally high levels of copper, a natural anti-microbial agent, protects sub-sea infrastructure against layers of plant, animal and microbe growth while meeting environmental and safety standards.
It ensures that underwater infrastructure continues to meet expected performance levels, contributes to the integrity of structures, and helps reduce maintenance costs.
The launch follows the completion of a five-year trial funded by EDF Energy and undertaken by Plymouth Marine Labs (PML) in the UK, which concluded that Coppercoat-Commercial is the best protective anti-foul solution for underwater turbines.
Although the trial was carried out with a view to supporting wave and hydropower facilities, the same coating can be applied equally to any static or dynamic sub-sea structure to enhance the longevity and efficiency of both fixed and floating platforms, particularly in areas of significant marine flow.
Further research conducted by Dr Tom Vance at PML looked at the loss of paint thickness over time and showed that Coppercoat-Commercial was also the most effective anti-foul in terms of longevity, losing just 4.3 per cent over the five-year trial period.
Jayson Kenny of AMC said, "We developed Coppercoat for the marine industry 30 years ago. Since then, we have perfected our products and gained plenty of first-hand experience of what happens to the vessels' hulls and sub-sea equipment when left unprotected.
"Bio-fouling on sub-sea structures can cause all manner of problems, from accelerated ageing, increases in weight, drag and operating temperatures, through to the erosion of metalwork. Evermore commonly we are encountering reports of microbial induced corrosion (MIC), a problem to which Coppercoat-Commercial provides a reliable long-term solution."
The launch of Coppercoat-Commercial for the offshore oil and gas sector comes as operators and oilfield services providers look to exploit opportunities in deeper waters where lifting, cleaning and replacing subsea assets becomes significantly more difficult. It can form an important component of well-integrity strategies and provides protection against forms of degradation that are not prevented by standard anti-corrosion and anti-erosion products.
AMC's experience in the marine sector has demonstrated that Coppercoat-Commercial can last for 20 to 30 years depending on usage and conditions. The hard-wearing, densely copper-filled resin is suitable for both cold and tropical waters, and can be applied by roller or spray and can be used on all surfaces including steel, concrete, aluminium, GRP and various polymers. As it is both water-based and free from volatile organic compounds (VOCs), Coppercoat-Commercial is also the most environmentally safe bio-active anti-foul product on the market.