Storagetech as an Äager brand, is an engineering, design and manufacturing company that specialises in storage tank equipment for the oil, gas, water, chemical, and petrochemical industries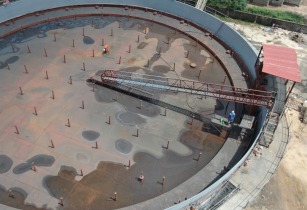 The brands will provide external floating roofs and a buffer storage tank fire fighting system for NPDC's facilities in Nigeria. (Image Source: Aager)
ERGIL is also an Äager brand and is specialist in designing, engineering, prefabrication, and building atmospheric storage tanks.
The two recently partnered with the Nigerian Petroleum Development Company (NPDC) to provide external floating roofs and a buffer storage tank fire fighting system for their facilities in Nigeria. External floating roofs are mainly used in crude oil applications to minimise evaporation losses and protect against harsh weather conditions. Storagetech and ERGIL provided in synergy a carbon steel external floating roof with a unique design for a 14-m high and 39-m diameter crude oil tank. The company also supplied a range of other products, including fixed and mobile water/foam monitors, fire hydrant valves, aluminum hatches, roof drain systems, fire fighting equipment and fire extinguishers.
The project was completed on time and to a high standard, with L Oyeye, partner of the project, stating, "Working with Storagetech and ERGIL has been a pleasant experience. The complexity of operating on such projects is obvious and often underestimated, but Storagetech and ERGIL together have confidently demonstrated their industrial expertise in programme development and on-time delivery and production plans. They overcome all obstacles to exist in one of the most unexplored yet potential markets."