Thunder Cranes (TC) and New Partner Energy (NPE) have completed the challenging first phase of a crane changeout project in Angola for Sonangol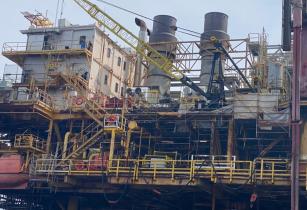 The goal of the first phase of the project was the safe removal of the PALP2 crane boom. (Image Source: Thunder Cranes)
The goal of the first phase of the project was the safe removal of the PALP2 crane boom which had been immobilised and secured in a suspended position following a technical failure that had rendered the crane inoperable.
The project located at Sonangol's PALP2 platform in Block 3 was many months in the planning and complex in the execution due to challenging circumstances. To execute the project, NPE brought in TC lifting experts together with their own expert consultants and contractors. The team for the first phase included welders and fitters for deck reinforcements, and a rope access team for complex rigging manoeuvres performed at height.
TC worked with NPE in providing expertise for the site survey, as well as engineering support, in order to complete the planning and the step-by-step procedures that would be required to perform the job safely and successfully. This type of project depended heavily on TC's unique portable-modular cranes. It was proposed as the right lifting solution for the project due to its modular and portable components, capacity and hook height. Furthermore, in the interim period between crane changeouts, TC20 would be capable of replacing routine crane operations in order to keep operations running on the PALP2 platform.
The site survey and engineering calculations revealed the need for deck reinforcements to the PALP2 deck. This was done in order to support the installation of the TC20 modular crane. While NPE prepared the deck reinforcements, the TC team brought the modular cranes into position from adjoining platform PALP1 (where there was a functioning platform crane) to PALP2, moving TC's equipment approximately 200 m between adjoining platforms, which were connected by a bridge.
Rigging up the TC20 crane in a limited deck area was one of the main challenges faced on the PALP2 platform. Getting the boom into position was further complicated by utility lines that could not be removed. The entire boom had to be suspended above the utility lines while it was pinned together. Following the TC20 load test, TC and NPE smoothly executed the boom take-down. Using a combination of TC20 crane and customised rigging work supervised by NPE, the PALP2 crane boom was removed and lowered into position on the lower decks of the platform. From there TC20 completed the lowering of the crane boom onto a supply vessel.
Safe lifting operations in these circumstances absolutely requires static lifting. Due to sea conditions an ordinary barge or vessel crane is not always suitable for an extremely delicate operationin a dynamic situation.
Having supported the critical PALP2 crane boom take down with NPE, the TC20 modular crane is now providing necessary but routine lifting support for daily operations at the platform.