Kinetiko has announced it has spudded a second production well on the Amersfoort project in Mpumalanga, South Africa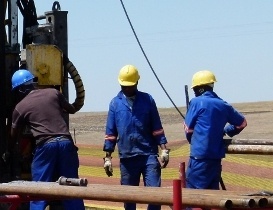 Work commencing on the Amersfoort site. (Image source: Kinetiko)
The second well, KA-10PT, will provide increased data and confidence in a potential gas field, the company said.
Exploration of the well, which will take place in one or two stages, is expected to reach completion by mid-December 2012, with data collated over a two-week period.
Located eight kilometres from the new production well, the first well, KA-03PTR, is currently undergoing stage one testing, with substantial spontaneous gas flows reported.
Following stage one testing, the hole will be deepened from 250 metres to around 370 metres to test the stage two targets, which consist of deeper gassy sandstone and coal measures. This stage should be completed by the end of January 2013, Kinetiko claimed.
The company is the operator of two gas licences in the Amersfoort Project, holding 49 per cent interest under an agreement with South African partner Badimo Gas.
Independent oil and gas consultant Gustavson Associates estimated the Amersfoort Project to have prospective resources of 2.4tcf (up from 1.7tcf in 2011) and a contingent resource of 1.5tcf.