Circle oil has drilled, logged and successfully tested the KSR-11 exploration well in the Sebou Permit, Rharb Basin, Morocco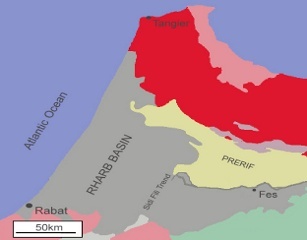 Circle oil has drilled, logged and successfully tested the KSR-11 exploration well in the Sebou Permit, Rharb Basin, Morocco
The company has confirmed a gas discovery in the Main Intra Hoot target and secondary targets available for future testing in the Mid and Base Guebbas sands. The well tested gas at a sustained rate of 4.0 mmscf per day on a 16/64" choke from the Intra Hoot. The perforated Intra Hoot zone of 17.9 m at 1,761.2-1,779.1 m MD has a calculated net gas pay of 11.6 m.
The Base Guebbas zone of 37.7 m at 1,636.0-1,673.7 m MD has a calculated net gas pay of 5.5 m. The Mid Guebbas zone of 22.8 m at 1,464.1-1,486.9 m MD has a calculated net gas pay of 4.1 m. The Guebbas Zones will be tested at a later date following production and depletion of the Intra Hoot producing zone. The well is being completed as a potential producer.
Testing
A full technical evaluation of all the results of the well is underway. This will allow for future planning as a precursor to further assessment of the resource, including conducting an extended well test to give a more complete estimation of the reserves.
The drilling rig is now being demobilised to end the 2010-2011 drilling campaign. Work is underway for consolidation of the results of this campaign together with planning for the next drilling campaign. The preparations for Circle's third Moroccan drilling campaign include the acquisition of a new 3D seismic survey over areas of Circle's permits not previously covered by 3D seismic.
In parallel, recent engineering testing of underground crossings of public transport infrastructure have been successfully completed as part of the construction preparation for the new 8-inch pipeline. Work on the pipeline is progressing in line with management's expectations.